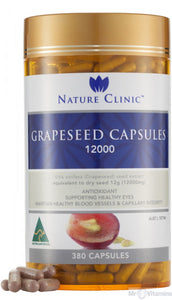 Nature Clinic Grapeseed capsules aid in the maintenance of general well-being.
Grapeseed capsules are a powerful antioxidant, which can help to protect the body from the damaging effects of free radicals. 
Supports the health of the cardiovascular system, assisting in the maintenance of healthy blood vessels and capillary integrity.  
It may help to support healthy eyes and assist eyes to adapt to variations in light intensity.  
Adults: Take 2 capsules daily or as directed by your healthcare professional.
Brand: Nature Clinic
UPC: 9326224009461